Tow Truck Adelaide & South Australia-wide. Reliable. Experienced. ANYTIME – ANYWHERE.
Towing Stenhouse Bay
Dial-a-Tow is a locally owned and operated business offering comprehensive towing Stenhouse Bay services. Our reputation is based on our professional and on-time service. Having been in operation since 1987, our experience in the towing industry is comparable to none other. For all your towing and vehicle transportation needs, call Dial-a-Tow today.
Car broke down in the middle of the night?
Got locked out of your vehicle?
Need to transport your boat or caravan to another city?
Have a heavy equipment needing transportation?
Vehicle wrecked in an accident?
Dial-a-Tow is there to help 24×7 with our vast range of towing services and well-equipped fleet of over sixty tow trucks! We strive to deliver rapid response towing which means we get to you within 30 minutes within the Adelaide metro area in normal circumstances.
Our Towing Stenhouse Bay Services
Car Towing – We tow and transport all makes and models of cars. We also cater to towing of prestige luxury cars like Porsche, Rolls Royce and Ferrari. Unlike others in the business, Dial-a-Tow has specialized tow trucks customised for towing of luxury vehicles.
Motorbike Towing – Motorbikes cannot be transported on normal tow trucks given their size and structure. At Dial-a-Tow, we are committed to delivering end-to-end towing services. Consequently, we have included in our fleet custom-made motorbike towing vehicles. These vehicles make it possible for the motorbike to be walked onto the vehicle and be secured in place afterwards.
Tilt Truck Towing – We offer tilt truck towing for large vehicles, including containers, trucks, forklifts, as well as heavy equipments like earth moving machinery.
Tight Access Towing – Towing jobs in tight-access locations demand skill and expertise. Our team of towing specialists are trained to assess the right towing approach based on size of the vehicle being transported and the space available. Furthermore, with our vast fleet of over 60 tow trucks, you can rest assured of having just the right truck for your towing Stenhouse Bay job.
Towing The Unusual – No single day in our lives is the same. Besides being called for routine towing jobs, Dial-a-Tow is also a name to reckon with for towing or recovering the unusual. One of the recent unusual towing we did was the professional removal and transportation of a dead elephant from the site.
Emergency Towing & Vehicle Recovery Services – Dial-a-Tow offers 24×7 emergency roadside assistance including emergency towing of accident vehicles, vehicle recovery and accident clean-up services. Our towing and recovery vehicles are fitted with all tools and equipment (like forklift, emergency lighting systems and cutting equipments) necessary for prompt road clean-ups.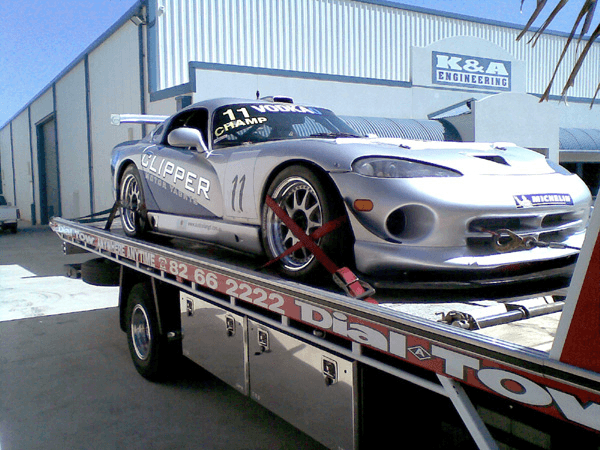 Heavy Machinery Towing – Dial-a-Tow's fleet of tow trucks is well-equipped to handle dismantling and towing of heavy machinery and equipments, weighing upto 4 tonnes. These include transportation of bob-cats and earth moving equipment, for which we have a range of low loaders and semi-trailers available.
Truck Towing – At Dial-a-Tow, we understand that having your truck stuck in an accident or broken down can quickly turn into a financial loss for you. Every second off the road is a buck wasted! As a result, we have equipped ourselves with special tow trucks designed for heavy vehicle towing. We can cater to truck towing jobs in many different locations at the same time.
Towing of Buildings – Our drivers and towing managers are skilled at efficiently manoeuvring and balancing a transportable building across rocky and difficult terrains and tight-access locations. This ensures that your building is towed to the destination safely and without causing any hindrance to the road traffic.
Boat & Caravan Towing – We have all been nomads at some point in our lives, shifting houses, moving cities. If you want to take your boat or caravan with you to your new home, give Dial-a-Tow a call today. Our low-bed semi trailer tow trucks are ideal for safe and prompt towing of boats, caravans, yachts and even cruise liners!
Roadside Assistance – Dial-a-Tow offers roadside assistance for flat tyre changes, jumpstarting and servicing of batteries, emergency fuel supply as well as round-the-clock emergency towing in Stenhouse Bay. Our 24×7 centralized call centre is at your disposal, taking calls and dispatching suitable tow trucks to the location in minimum time.
ADVANCED, WELL-MAINTAINED FLEET OF TOW TRUCKS
Our fleet of fully-insured 60 tow trucks is fully equipped with all latest tools and technology. They come fitted with a GPS tracking system for your complete peace of mind. Furthermore, if you wish to make an insurance claim, we can even give you a time-date stamped photo evidence of the tow truck at the time of loading and off-loading.
LICENSED & TRAINED TEAM
At Dial-a-Tow, we are particularly selective about the people we employ. Our team of experienced drivers and recovery managers have been with us since many years and are well-equipped to efficiently managing all types of towing Stenhouse Bay jobs. All our members are licensed, qualified and insured. They undergo regular training sessions about the towing industry guidelines, legal regulations and safety practices.